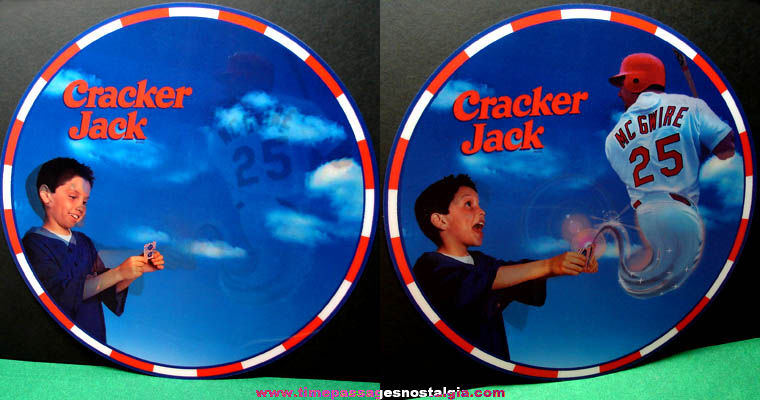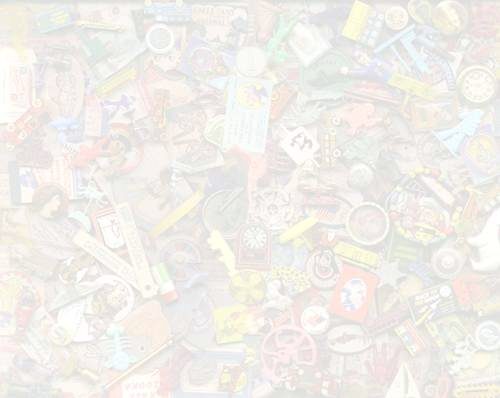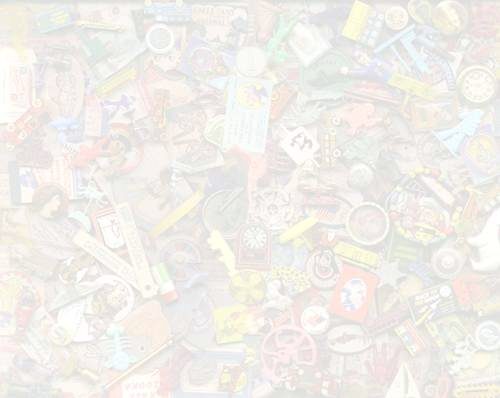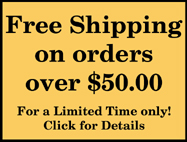 Any group of items being offered as a lot must be sold as a lot.
| | |
| --- | --- |
| | |
Quality Merchandise At Reasonable Prices
You don't have to be an eight year old to enjoy having
a childhood treasure.
Don't forget to
bookmark this site.
An Ever Changing Inventory
Worldwide Sales
Whether you've collected Memorabilia for years or just want to feel like a kid again, please take a few moments to browse through what we
have available for sale.
Fast Dependable Service
The picture shows two views of this Large Cracker Jack Advertising Mark McGwire Baseball Flicker Store Display. This colorful round flicker display is not dated but it was used in the 1990s when St. Louis Cardinals Mark McGwire was used in a lot of advertising campaigns for Cracker Jack. The image changes from a boy opening up a Cracker Jack prize to Mark McGwire coming out like a genie from a bottle. It is marked as follows:

CRACKER JACK
McGWIRE 25

The flicker display measures 13-1/4'' wide. It is in near mint condition as pictured. The back has some extra paper from when it was attached attached to a larger Mark McGwire cardboard display full of Cracker Jack. Below here, for reference is some information found on Mark McGwire:

Mark McGwire
From Wikipedia, the free encyclopedia

Mark McGwire
First baseman
Born: October 1, 1963 in Pomona, California
Batted: Right
Threw: Right
MLB debut: August 22, 1986 for the Oakland Athletics
Final game: October 7, 2001 for the St. Louis Cardinals

Career statistics
Batting average: .263
Home runs: 583
Runs batted in: 1,414

Teams: Oakland Athletics (1986 - 1997), St. Louis Cardinals (1997 - 2001)

Career highlights and awards:
12x All Star selection (1987, 1988, 1989, 1990, 1991, 1992, 1995, 1996, 1997, 1998, 1999, & 2000)
World Series champion (1989)
Gold Glove Award winner (1990)
3x Silver Slugger Award winner (1992, 1996, 1998)
1987 AL Rookie of the Year
1999 Lou Gehrig Memorial Award

MLB Records:
10.61 At bats per home run ratio
49 home runs rookie season

Mark David McGwire (born October 1, 1963 in Pomona, California) is a former professional baseball player who played the majority of his Major League career with the Oakland Athletics before finishing his career with the St. Louis Cardinals. For his career, McGwire averaged a home run once every 10.61 at bats, the lowest at bats per home run ratio in baseball history (Babe Ruth is second at 11.76). In 1987, he broke the single season home run record for rookies, with 49. In 1998, McGwire broke the single season home run record by hitting 70. His achievement has since been thought to be a result of illegal steroid use. His mark was surpassed by Barry Bonds who hit 73 in 2001 and whose own record is also thought to be as a result of illegal steroid use.

Biography

Oakland Athletics career
McGwire began his major league career with the Oakland A's in 1986, and he played there until late in the 1997 season. With teammate Josˇ Canseco, he was one half of ''The Bash Brothers.'' Their offensive output helped to propel Oakland to three consecutive American League Championships from 1988 - 1990. McGwire and the A's won the 1989 World Series. Early in his career, a stretch of hitting bases empty home runs earned McGwire the derisive nickname ''Marco Solo.'' McGwire worked hard on his defense at first base and resisted being seen as a one dimensional player. He was regarded as a good fielder in his early years, even winning a Gold Glove in 1990. In later years his mobility was reduced, and his defense declined as a result. McGwire's total of 363 home runs with the Athletics is that franchise's record. He was selected or voted to nine American League All Star Teams while playing for the A's, including six consecutive appearances from 1987 through 1992.

1987 - 1991
In his first full Major League season in 1987, he hit 49 home runs, a single season record for a rookie; he was named the American League Rookie of the Year. McGwire hit 32, 33, and 39 homers the next three seasons, the first Major Leaguer to hit 30+ home runs in each of his first 4 full seasons. On July 3 and 4, 1988, McGwire hit game winning home runs in the 16th inning of each game Mark McGwire's most famous home run with the A's was likely his game winning solo shot in the bottom of the ninth inning of Game 3 of the 1988 World Series against the Los Angeles Dodgers and former A's closer Jay Howell. McGwire's game winner brought the A's their only victory in the 1988 World Series, which they lost in five games. However, Big Mac and his fellow Bash Brother Josˇ Canseco did play a large part in the 1989 World Champion A's team that defeated the San Francisco Giants in the famous ''Earthquake Series.''

McGwire's batting average, .289 as a rookie, plummeted over the next three seasons to .260, .231, and .235, respectively. In 1991, he bottomed out with a .201 average and 22 homers. Manager Tony LaRussa sat him out the last game of the season so his average could not dip below .200. Despite the declining batting averages during this time of his career, his high bases on balls totals allowed him to maintain acceptable on base percentages. In fact, when he hit .201, his adjusted OPS (OPS+) was 103, or just over league average. McGwire stated in an interview with Sports Illustrated that 1991 was the ''worst year'' of his life, with his on field performance and marriage difficulties, and that he ''didn't lift a weight'' that entire season. With all that behind him, McGwire re-dedicated himself to working out harder than ever and received visual therapy from a sports vision specialist.

1992 - 1997
He changed his clean cut look and grew a mullet, a mustache, and a goatee to look more fearsome. The ''new look'' McGwire hit 42 homers and batted .268 in 1992, with an outstanding OPS+ of 175 (the highest of his career to that point), and put on a home run hitting show at the Home Run Derby during the 1992 All Star break. His performance propelled the A's to the American League West Division title in 1992, their fourth in five seasons. The A's lost in the playoffs to the eventual World Series champion, the Toronto Blue Jays. Mark smashed a game winning homer in the 9th inning to win the game. But running the bases, hurt his foot. Foot injuries limited McGwire to a total of 74 games in 1993 and 1994, and just 9 home runs in each of the two seasons. He played just 104 games in 1995, but his proportional totals were much improved: 39 home runs in 317 at bats. In 1996, McGwire belted a major league leading 52 homers in 423 at bats. He also hit a career high .312 average, and led the league in both slugging percentage and on base percentage.

St. Louis Cardinals and the HR record chase
In 1997, he hit a major league leading 58 home runs for the season, but did not lead either league in homers, as he was traded from the Oakland Athletics to the St. Louis Cardinals on July 31, when he had hit 34 homers for the A's. It was widely believed that McGwire, in the last year of his contract, would play for the Cardinals only for the remainder of the season, then seek a long term deal, possibly in Southern California, where he still lives. However, McGwire signed a contract to stay in St. Louis instead. (It is also believed that McGwire encouraged Jim Edmonds, another Southern California resident, who was traded to St. Louis, to sign a contract with the Cardinals.) There was much media speculation as to where Maris' record would be broken in 1998, and a debate as to who would break it, Ken Griffey, Jr. or McGwire.

As the 1998 season progressed, it became clear that McGwire, Griffey, and Chicago Cubs outfielder Sammy Sosa were all on track to break Roger Maris' single season home run record. The race to break the record first became a media spectacle as the lead swung back and forth. On August 19, Sosa hit his 48th home run to move ahead of McGwire. However, later that day McGwire hit his 48th and 49th home runs to regain the lead. Griffey had injury problems and dropped out of the competition, leaving Sosa and McGwire to battle it out to #62. On September 8, 1998 at 8:18 p.m. et, McGwire hit a pitch by the Chicago Cubs' Steve Trachsel over the left field wall for his record breaking 62nd home run, setting off huge celebrations at Busch Stadium. The fact that the game was against the Cubs meant that Sosa was able to congratulate McGwire personally on his achievement. Members of Roger Maris' family were also present at the game. Memorably, the ball was freely given to him in a ceremony on the field by the stadium worker who found it.

McGwire finished the 1998 season with 70 home runs, four ahead of Sosa's 66, a record that was broken three seasons later by Barry Bonds. Since Babe Ruth had hit 60 home runs in 154 games during 1927, and Roger Maris hit 61 in 161 games in 1961 (not breaking the record until after the 154 game mark), some had quibbled whether the single season record was actually broken. With McGwire breaking the record in his team's 145th game, he laid to rest the issue of the extended season.


Although McGwire had the prestige of the home run record, Sammy Sosa (who had fewer HR but more RBI and stolen bases) would win the 1998 NL MVP award, as his contributions helped propel the Cubs to the playoffs (the Cardinals in 1998 finished third in the NL Central). Many credited the Sosa-McGwire home run chase in 1998 with ''saving baseball,'' by both bringing in new, younger fans and bringing back old fans soured by the 1994 Major League Baseball strike.

1999 - 2001
In 1999, McGwire hit 65 home runs and drove in a league leading 147 runs while only having 145 hits, the highest RBI per hit tally in baseball history. Sammy Sosa again was right on his tail, hitting 63 home runs.


In 2000 and 2001, McGwire had reduced numbers as he played in a reduced amount of games (32 HR in 89 games, and 29 HR in 97 games, respectively). McGwire ended his career with 583 home runs, which was then fifth most in history. He led Major League Baseball in home runs five times. He hit 50 or more home runs four seasons in a row (1996 - 1999), leading Major League Baseball in homers all four seasons, and also shared the MLB lead in home runs in 1987, his rookie year, when he set the Major League record for home runs by a rookie with 49. McGwire had the fewest career triples (6) of any player with 5,000 or more at bats.

Honors
In 1999, the The Sporting News released a list of the 100 Greatest Baseball Players. The list had been compiled during the 1998 season and included statistics through the 1997 season. McGwire was ranked at Number 91. That year, he was elected to the Major League Baseball All Century Team (though he received fewer votes than any other selected player). In 2005, The Sporting News published an update of their list and McGwire had been moved up to Number 84. However, in the 2007 and 2008 balloting for the Baseball Hall of Fame, McGwire failed to attain election, receiving 128 of the 545 cast, 23.5% of the vote. He received the same exact amount of votes both years. It is widely conceded that this was related to the steroid scandal and McGwire's less than forthcoming testimony . A portion of interstate 70 in St. Louis and near Busch Stadium was named ''Mark McGwire Highway'' to honor his 70 home run achievement, along with his various good works for the city.

Steroids Controversy
Although McGwire has never admitted to or been convicted of any steroid use, many of his accomplishments, particularly his historic home run surge late in his career, have come into question due to his connection to the steroid scandal in Major League Baseball. Despite being under a cloud of suspicion for years, McGwire has repeatedly refused to discuss his involvement, or lack thereof, with steroids and performance enhancing drugs. McGwire was not identified by name in The Mitchell Report, but he has been accused by former teammate Jose Canseco, who said he personally injected McGwire with steroids. In 1998, after an article written by Associated Press writer Steve Wilstein, McGwire admitted to taking steroid precursor androstenedione, an over the counter muscle enhancement product. Rumors surfaced later that McGwire admitted to the use of androstenedione to throw off the scent of the steroids he was allegedly using. While legal at the time under U.S. law and for use in MLB, it had already been banned by the World Anti-Doping Agency, the NFL and the IOC.

In 2005, McGwire and Canseco were subpoenaed to testify at a congressional hearing on steroids, along with five other baseball players and four baseball executives. Canseco had released Juiced: Wild Times, Rampant 'Roids, Smash Hits & How Baseball Got Big, a book in which he spoke positively about steroids, and made various claims among them, that McGwire had been using performance enhancing drugs since the 1980s. During his testimony on March 17, 2005, McGwire declined to answer questions under oath when he appeared before the House Government Reform Committee. In a tearful opening statement McGwire said, ''Asking me or any other player to answer questions about who took steroids in front of television cameras will not solve the problem. If a player answers 'No,' he simply will not be believed; if he answers 'Yes,' he risks public scorn and endless government investigations.... My lawyers have advised me that I cannot answer these questions without jeopardizing my friends, my family, and myself. I will say, however, that it remains a fact in this country that a man, any man, should be regarded as innocent unless proven guilty.'' When asked if he was asserting his Fifth Amendment right not to incriminate himself, McGwire once again responded: ''I'm not here to talk about the past. I'm here to be positive about this subject.''

While no legal action has been taken against McGwire, in baseball or out of it, his testimony cost him public affection and support. In 1999, McGwire was voted to the All Century Team, and upon his retirement in 2001, he was uniformly characterized as ''a future Hall of Famer.'' However, when his Cooperstown eligibility began in 2006 - 2007, McGwire received less than a quarter of the vote. Several of these sportswriters indicated that they were casting a protest non-vote in McGwire's first year of eligibility, or that they wanted more time to consider the developing steroid story in baseball; some noted that McGwire's relatively low career batting average (.263) and the fact that he did not attain 2,000 hits during his career as deciding factors to abstain. It is unclear where McGwire's true level of ballot support will end up leveling off.

Career totals
In 16 seasons, Mark McGwire accumulated these career stats:
Games played: 1874
At bats: 6187
Runs: 1167
Hits: 1626
Doubles: 252
Triples: 6
Runs batted in: 1414
On base percentage: .394
Home runs: 583
Walks: 1317
Strikeouts: 1596
Stolen bases: 12
Caught stealing: 8
Batting average: .263
Slugging percentage: .588
Click on image to zoom.