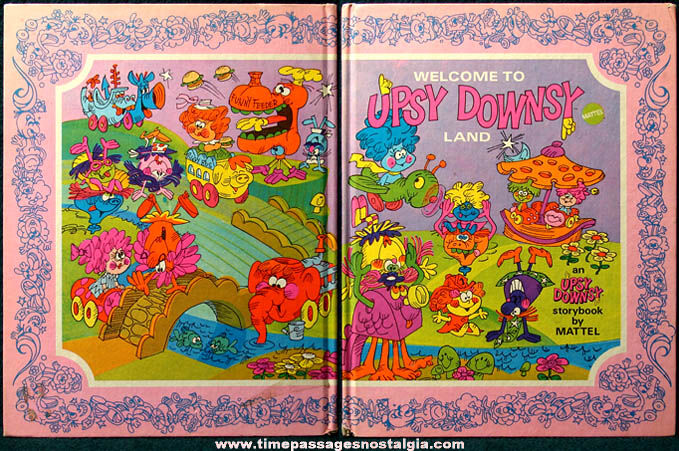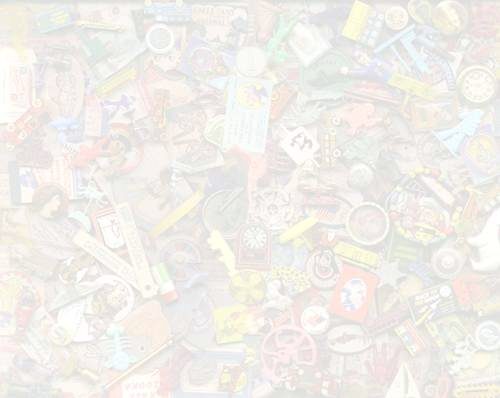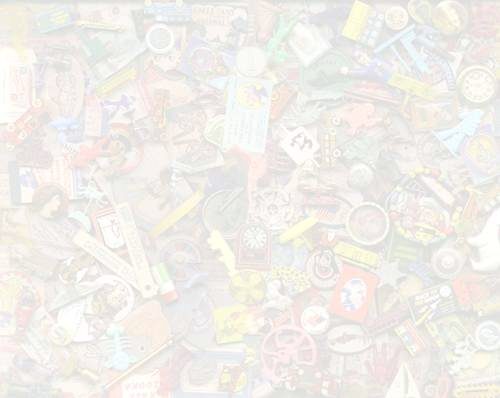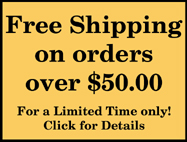 Any group of items being offered as a lot must be sold as a lot.
| | |
| --- | --- |
| | |
Quality Packing And
Postal Insurance
Quality Merchandise At Reasonable Prices
You don't have to be an eight year old to enjoy having
a childhood treasure.
Unique & Fun Nostalgic Items
Nostalgic Memorabilia, Pop Culture Artifacts, Historic Items,
and "Shoe Box Toys"
Great memories
make great gifts!
Whether you've collected Memorabilia for years or just want to feel like a kid again, please take a few moments to browse through what we
have available for sale.
The picture shows a view of the front and back covers of this Colorful ©1969 Mattel Welcome to Upsy Downsy Land Character Book. This hard cover book is © 1969 by Mattel. The book was published for Mattel by The Western Publishing Company (Whitman). It has (36) brightly colored pages (like the covers) with many Upsy Downsy characters from the story. At the back it advertises the Upsy Downsy book set. the book measures 8-7/8'' x 11-1/2'' x 1/2''. It appears to be in mint condition as pictured except for a small spot at the lower right corner of the title page. Below here, for reference, is additional information about Upsy Downsy Characters:
Upsy Downsy
From Wikipedia, the free encyclopedia
Upsy Downsy is a brand developed by Mattel. It concerns two races of strange beings, one that lives rightside-up (The Upsys), the other upside-down (The Downsys). These psychedelic creatures and their fantasy world were featured in a short lived line of colorful toys and story books for young children in 1969.
The Toy Line
The toys were small plastic characters with fabric clothing and synthetic yarn hair, all in fantastic, garishly bright colors. Each came with a fold out cardboard Playland mat, a ''Magic Bridge Clip'' to link one mat to another, some wild (and often quite fragile!) accessories, a mode of transportation, and a name that summed up their character in a few nonsensical words. All of the individual Playland mats were designed to be placed together using the Bridge Clips to make the ''Happidiculous World'' of The Upsys and Downsys. The Upsy figures were approximately 2-1/2'' tall, basically humanoid in shape, with tiny bodies and huge oversized heads topped with a large bright yarn pompom for hair. The Downsys, on the other hand, were more cartoonish beings, about 4'' in height with wild, goofy faces in the middle of a large, rounded body. Downsys' hands are positioned on the tops of their heads, to allow them to stand upside-down.
The toys
Upsys
Flossy Glossy - The Upsy Fire-Chiefess and her Elewetter Fire Engine
Tickle Pinkle - The Upsy Beauty and her Bugabout Car
Pudgy Fudgy - The Upsy Eat-Too-Mucher and her Piggybus
Baby So-High - The Upsy Hero and her Airo-Zoomer Plane
Like many things in Upsy Downsy Land, the gender of little Baby So-High, the infant pilot, appears a bit confused. In most instances, including all of the books and even the back of the toy's original packaging, Baby is referred to as a ''she'', but the bright billboard that came in that same package proclaims: ''Air Show Today! See Baby So-High Fly his Airo-Zoomer!'' (emphasis added)
Downsys
Downy Dilly - The Downsy Mischief-Maker and her Footmobile
Pocus Hocus - The Downsy Mixed-Up Magician and his Dragon Wagon
Mother What Now - The Downsy Frazzled Mom and her Go-Getter Car
Miss Information - The Downsy Opposite Directions Teller and her Miss Information Booth
For reasons that remain unclear, the name of Miss Information's Round-Eared, Three-Wheeled, Orange and Turquoise Conveyance has been popularly mis-named by many sources as ''Booth Moose''. While most of the Upsy vehicles seem to have been based on a particular animal (Piggybus springs to mind), the Downsy rigs are not so designed or constrained. And seeing that The Miss Information Booth hasn't anything remotely resembling antlers, this writer cannot see the remotest basis for this incorrect name.
Wiz-z-zers
Wiz-z-zers are gyro-powered toy tops that spin crazily when their tips are wound. Produced in many incarnations by Mattel during the late nineteen-sixties and well into the seventies, these wild whirring tops were a perfect fit for the Upsy Downsy line, and were adapted as a pair of bizarre vehicles, each coming with its own pilot character. Mattel inadvertently reversed the names of the two Wiz-z-zer-riding characters in the group cast picture shown on the backs of the toy Play Mats, making the whole endeavor all the more confused.
The Furry Hurry Wiz-z-zer with Hithery Thithery (Upsy)
The Hairy Hurry Wiz-z-zer with Skelter Helter (Downsy)
Playsets

HAPPY GO-ROUND
The Happy Go-Round Playset features a dazzling three-car carousel. The cars in question are Bugabouts (similar to Tickle Pinkle's car, but in different colors), which are connected to the central umbrella support by a three-way axle, so that all the cars rotate around the wobbly platform at once. The Set also includes an extra large Playland Mat, a Magic Bridge Clip, a streetlamp, a fence, an Upsy Downsy Daisy, and most importantly, exclusive Upsy patrons Foozie Woozie and Tingle Dingle.

FUNNY FEEDER
The Funny Feeder is the Downsy Land Hamburger Stand. The strange contraption features a spring loaded tongue sticking out of its huge, grinning mouth (the better to toss plastic hamburgers towards customers with). The Feeder is manned by Downsy cook Short Order and Gooey Chooey, who has been characterized as either Short Order's waitress, or his best customer, or possibly both (the books were kinda vague). The Set came with an over sized Playland Mat, a Magic Bridge Clip, a fence, a streetlamp, a Billboard (Advertising ''Downside-Up Burgers''), a serving tray, and three of the afore-mentioned burgers, ready for launching.

The Book Line

Eight of the main Upsy Downsy characters were spotlighted in a series of lush, colorful (and slightly psychedelic) Storybooks that chronicled their crazy adventures. There was also a larger book, Welcome to Upsy Downsy Land, which introduced the Happidiculous World and its inhabitants as a whole. This book told of the surreal origins of the Upsys and Downsys. They were once merely flowers, covering an entire world made of fuzzy dandelions. A sentient wind called The Great Huff passed by this world long ago, and, having his nose tickled by the dandelions, blew them all away. As the dandelions fell back to earth, some of them fell through a rainbow, and were magically changed into rightside-up beings known as Upsys. Other dandelions fell through a storm cloud, and became upside-down creatures called Downsys. The two factions, despite each being the others' polar opposite, got along famously, and developed their own little civilization, which came to be known as ''Upsy Downsy Land''.

The Storybooks
''Welcome To Upsy Downsy Land''
''Flossy Glossy and The Hard-to-find Fire''
''Tickle Pinkle and The Beautiful Birthday Party''
''Pudgy Fudgy & The Whirl-around Picnic''
''Baby So-High and The Just-Right Pet''
''Downy Dilly and The Monster Trick''
''Pocus Hocus and The Magic House-Tree''
''Mother What Now and The Mixed-up Treasure''
''Miss Information and The Upsy Downsy Circus''
There was also a 14-Page Upsy Downsy Coloring Book, which was apparently a free give-away item intended to promote the line. Dated 1970, this Coloring Book utilized artwork from ''Welcome To Upsy Downsy Land'', and recounted the groups' origin.

Other elements of the brand introduced in the books

Other characters mentioned in the books
Wooly Booly & Moo Choo Engine, Wooly Booly, an Upsy Engineer, was featured prominently in Downy Dilly's story book, and his bovine locomotive, The Moo Choo, helped to further the plot of Miss Information's story. With these fully developed ancillary characters at the ready, it is interesting to speculate if Mattel might have produced an Upsy Downsy train set, had the line been more successful.

Splasha Lotta the Sea Monster & his Mamma (In DD)
What-Nut the Squirrel (in PH)
Bunny Funny (in PH)
Chatter-Chitter the Chipmunk (in PH)
Red-tailed Downsy-peckers (in PH)
Morning Bird (in PF)
Upsy Downsy Daisies (in PF)
Pinkle Poodle Ð TP's pet (in BSH)
Spotless the Firedog Ð FG's pet (in BSH)
Yow-Me the Downsy Kitten (in BSH)
Lovebirds Ð MWN's pet (in BSH)
Blossom Apple the Skunk Ð DD's pet (in BSH)

Upsy Downsy Land geographical landmarks mentioned in the books
Lake Fishabit
Wetter Better Desert
Daisy Hill
Candy Factory
Sleepy Deepy River
Pocus Hocus' Nutbeech House Tree on the bank of the Sleepy Deepy River
Mother What Now's cottage on the bank of the Sleepy Deepy River
Flat-as-a-Mat Mountains
The Fall-Up Falls, an inexplicable (but quite normal in Downsy Land) reverse waterfall, was mentioned on a Billboard sign that came packaged with Miss Information.
Happidiculous Hill, Mattel even planned to market a Playset Carrying Case for the toys based on this landmark. It was, however, never produced. In the books, Downy Dilly's inverted mushroom house was located at the top of Happidiculous Hill.
Click on image to zoom.